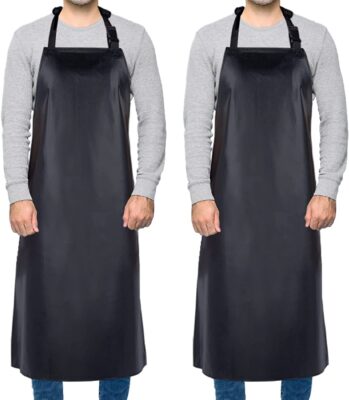 Click here to Save on Homsolver Aprons!
KEEPS YOUR CLOTHES CLEAN AND DRY while you butcher meat, excellent for cleaning fish or power washing farm equipment; also use is as taxidermy aprons for men, shop apron, chef apron, hair stylist apron, canvas apron, hazmat suits. Black aprons for back splash, deflects oil and grease with its slippery outside, yet is soft enough for extended wearing. Get this Homsolver 2Pack Waterproof Rubber Vinyl Apron Chemical Resistant Apron with Adjustable Butcher Aprons for Dishwashing for only $18.39. 
Vinyl

Imported

Drawstring closure

2 PACK BLACK APRON: Waterproof rubber butcher apron is protecting your clothes from dishwashing, cleaning, pottery working, washing dishes, butchering, kitchen cooking, pet grooming, gardening, woodworking, buffing a paint job, doing chemical lab work or industrial job.

HIGH QUALITY AND DURABILITY: Made of waterproof heavy duty thick leather; High quality elastic fabric, delicately silky comfortable and breathable material; This dishwashing apron is waterproof, oil resistant and anti-corrosio.

KEEP DRY AND CLEAN: The heavy duty vinyl apron is long and heavy enough to cover the entire front so that you won't get dirty or wet while butchering chicken, cleaning fish, artist apron, lab chemistry work, meat processing or washing dishes at restaurant.

EASY TO WASH: If there are spots or stains on the waterproof apron, just wipe and rinse gently with water or soapy water; Easy to Clean; Use a dryer, spin-drying or dry-cleaning is not recommended.

PERFECT SIZE FITS All: This butcher leather apron measures 29 by 39 inches; Suitable for both men and women; Adjustable ties with a quick clip; Thick and soft neck strap pad adds more comfort.
This post contains affiliate links.