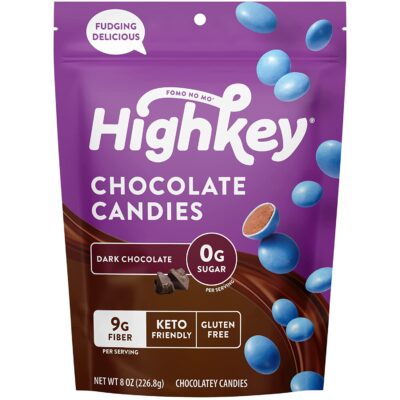 Save on HighKey: the Top Deal of 2023!
Poppable chocolate candies with a crispy shell and a rich, creamy dark chocolate filling. High in awesome, not in sugar!
Get this HighKey Sugar Free Dark Chocolate Pearls – 8oz Keto Candy Low Carb Snack No Sugar Candy Coated Healthy Chocolates Diabetic Snacks Zero Carbs Dessert Bites Sweet Treats Diet Friendly Food Cocoa Sweets for only $11.97!
Sugar Free Chocolate and Diabetic Snacks – Our diabetic friendly sugar free Dark Chocolate Pearls contain no added sugar. This low bariatric impact dark chocolate stevia candy makes an ideal diabetic dessert as zero sugar snacks diabetic candy.

Low Carb Keto Snack – These HighKey low carb snacks have only 1g of net carbs. Keto food, keto snacks, keto friendly food, and keto candy describe this keto chocolate product. This semisweet healthy chocolate is a low carb dessert and low carb food.

Gluten Free and Grain Free – This gluten free chocolate candy is a delicious gluten free dessert and the perfect gluten free snack for adults and kids. Enjoy as a healthy snack, healthy candy, keto ice cream topping, hiking snack, or healthy sweet.

Vegan Chocolate Candy and Healthy Snacks – Our vegan chocolate pieces have no animal products. The best dairy free dark chocolate around, this product works for vegans and vegetarians alike. Vegan snacks, vegan desserts, and vegan keto snacks.

Dark chocolate candy pieces: Enjoy candy coated pieces filled with rich, dark chocolate without the added sugar and carbs. Made with real unsweetened chocolate and cocoa butter and sweetened with erythritol and stevia. This high fiber candy is made with clean ingredients and no artificial flavors or colors. These sweet treats contain no titanuim dioxide or maltitol, unlike the competition, and won't melt in the heat!
This post contains affiliate links.