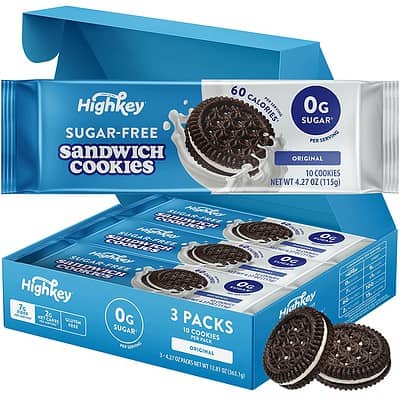 Click here to Save on HighKey Healthy Snacks!
Need to cut back on sugar? It turns out you can still have a treat! Get these HighKey Sugar Free Snacks Sandwich Cookies – Keto Snack Healthy Snacks Sugar Free Cookies Gluten Free Snacks Low Carb Snack Low Calorie Foods Keto Dessert Keto Friendly Food Zero Sugar Cookies 30ct for only $13.59. 
Sugar Free Cookies and No Sugar Snacks – Our keto chocolate sandwich cookies have zero sugar, no sugar added and low sugar snacks. This sugar free chocolate cookie pack contains 30 sugar free sandwich cookies and tasty gluten free sugar free cookies.

Low Carb Snacks and Keto Friendly Snacks – With a leading 2g of net carbs, our Sandwich Cookies are perfect keto snacks, keto food, keto dessert and keto cookies. These low carb cookies have 0g sugar and are low carb candy low carb chocolate snacks.

Gluten Free Cookies and Low Calorie Snacks – Our healthy cookies are gluten free and only 60 calories per serving, healthy snack cookies. There aren't many products that are gluten free snacks, sugar free, and low calorie that taste this good.

Healthy Snacks for Adults and Kids – These low fat cookies are a healthy alternative for kids and adults to enjoy. Our healthy cookies make great weight loss snacks at 0g trans fat, 0g sugar, 7g fiber, and only 60 calories and made with real cocoa.

This is what you've all been waiting for. A sandwich cookie that really tastes as good as the original without all of the junk! Our Sandwich Cookies are the perfect combination of a light and creamy filling between two crunchy cookies, making them a slam dunk (in your favorite glass of milk!)
This post contains affiliate links.