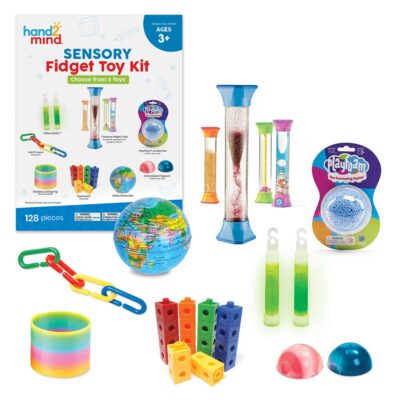 Save on Hand2Mind and Learning Resources School Supplies today only! Choose from educational games, hands-on learning, and other must-haves for the classroom and at home. Get these hand2mind Sensory Fidget Toy Kits for Kids, Sensory Toys for Sensory Play, Play Therapy Toys, Fidget Tube, Mini Glow Sticks, Play Foam, Stress Ball, Fidget Links, Fidget Cubes & Spring (128 Pieces), for only $23.99!
SCREEN FREE FIDGET TOYS FOR KIDS: Teach kids to soothe themselves with hands-on resources that help build social-emotional skills for children by providing cues and physical objects to deal with big emotions, without the strains that come with screens.

RELAXING PLAY THERAPY TOYS: Each set of our sensory toy kit comes with a sensory fidget tube, 2 glow sticks, 1 play foam jumbo pod, 2 marbleized poppers, a globe stress ball, 20 pop cubes, 1 plastic rainbow coil spring and 100 Link N' Learn pieces.

OCCUPATIONAL THERAPY TOYS FOR KIDS: Our mesmerizing fidget toys are perfect for occupational therapy activities for kids. These calming toys help with anxiety and are easy to enjoy.

SENSORY TOY SET TO REINFORCE SENSORY PLAY: Each of the sensory toys offers a unique experience because each child reacts differently to a stressful situation. Kids or adults can enjoy an independent play or practice quiet focus.

FIDGET TOYS FOR ANXIETY: If kids are upset or stressed, encourage them to focus on the movement within the fidget tube or the rainbow coil spring. This allows them to slow down their heart rate and respiration as they turn their attention to there.
This post contains affiliate links.