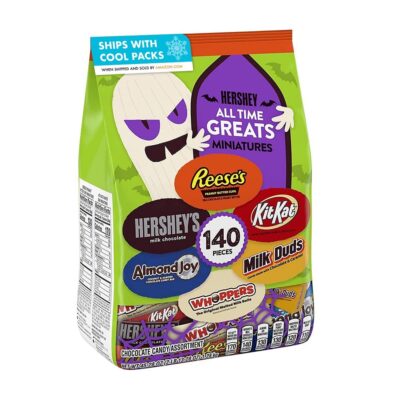 Want to get ahead of the Halloween rush? Click here to Save on Halloween candy from Hershey's! If you are looking for Almond Joy, Hershey's Chocolate, WHoppers, Milk Duds, KitKat, and Reese's, this is the combo pack for you! Get this Hershey All Time Greats Miniatures Chocolate Assortment Candy, Halloween, 45.28 oz Bulk Variety Bag (140 Pieces) for only $11.06!
Get ready for your Halloween parties and neighborhood trick-or-treaters with this delicious candy assortment of Hershey All Time Greats Miniatures candy that includes REESE'S milk chocolate peanut butter cups, HERSHEY'S milk chocolate bars, KIT KAT milk chocolate wafer bars, ALMOND JOY coconut and almond chocolate bars, MILK DUDS chocolate caramel candy and WHOPPERS malted milk balls candy. This bag has all the classics to let every monster choose a favorite. Send each ghost, goblin and ghoul home with a smile on their face this Halloween if you're looking to avoid the trick with just the right treat. Your party favors, Halloween decorations and candy bowls will be a crowd favorite with these bite-size candies, but don't forget to hold onto a few for yourself! Try a KIT KAT wafer bar or REESE'S peanut butter cup candy straight out of the freezer for a fun twist on Halloween chills. If you're feeling crafty this year, bring your Hershey chocolate candy assortment into the kitchen. Top off your baked goods and edible Halloween crafts to make you forget all about the season's fright.
This post contains affiliate links.