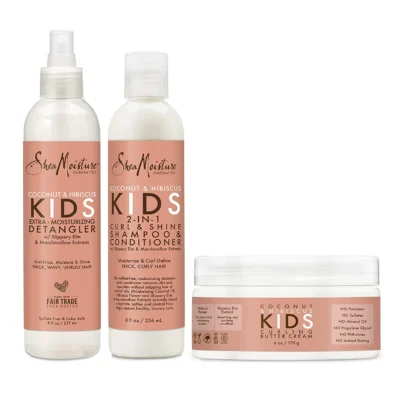 Save on Hair Care & Skin Care from Shea Moisture today!
SheaMoisture 2-in-1 coconut shampoo and conditioner for kids is our best hair product for natural curls that need hydration and hair shine with a fragrance kids love. This sulfate free shampoo and conditioner nourishes to transform dry hair into soft, tangle-free shiny curls. Wish you could get your kid's wayward curls to behave according to your wishes Kids' hair can be frizzy and as messy as adults! Frizzy hair, knots in curls, Dry hair and tangles are followed by tears—making bath time a dreaded chore. Change this with our kids products trio. SheaMoisture's Coconut and Hibiscus Kids 2in1 Curl and Shine Kids Shampoo and Conditioner is a gentle and nourishing way to ensure your child has soft, shiny, tangle and frizz-free hair, wash after wash! Get this SheaMoisture Kids Shampoo, Detangler and Cream For Moisture and Shine Coconut and Hibiscus Sulfate Free Kids Shampoo and Conditioner, 3.0 Count, White for only $19.18 and save even more with Subscribe & Save. 
Wash and style your little one's hair with our trio: 2in1 coconut kids shampoo and conditioner, detangler and butter cream for natural curls that need hydration and shine with a fragrance kids love

SheaMoisture's 2 in1 kids shampoo and conditioner is one of our best shampoo for kids, blended with Fair Trade Shea Butter with Coconut Oil and Hibiscus Flower, to treat dry curls

Blended with Slippery Elm Extract, Coconut Oil, Hibiscus Flower Extract, our detangler makes hair smooth to touch, hydrates, and helps define curls; Can be used after our kids shampoo or on dry hair

Our Curling Butter Cream is a hairstyling cream that detangles while keeping curls moisturized and shiny for hair health. Can be used after washing hair with our 2in1 shampoo and conditioner

Use our 2in1 shampoo and conditioner, for curl and shine followed by the detangler and style with the butter cream
This post contains affiliate links.