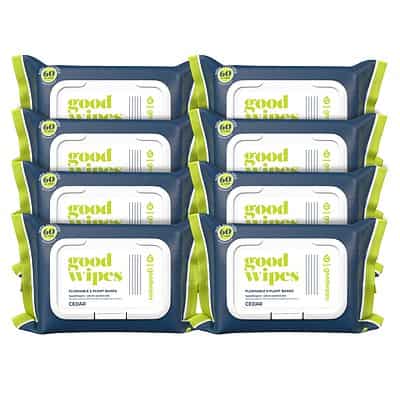 Click here to Save on Good Wipes Flushable Wipes!
SAY GOODBYE TO TOILET PAPER FOREVER: Butts deserve better in the bathroom than dry scratchy toilet paper – Goodwipes are flushable butt wipes with a heavenly feel that calms, cools and soothes and actually cleans your rear end with no irritation. Baby wipes cannot be flushed and leave a soapy and filmy residue. Toilet paper spreads and smears poop, cuts your skin, and leaves remnants behind. Bidets only spread poop around. Get the Goodwipes Flushable Butt Wipes Made w/Soothing Botanicals & Aloe – Soft & Gentle Wet Wipe Dispenser for Home Use, Septic & Sewer Safe – Largest Adult Toilet Wipes – Cedar, 480 count (8 packs) for only $22.37.
GENTLE TO THE TOUCH: Our Cedar personal cleansing wipes leave skin feeling normal after use, not super wet, and your behind smelling like a fresh forest; they stay moist, never dry, thanks to our travel safe double moisture-lock lid. Just gently pull to grab one wipe at a time.

BIG BUTT WIPES: Size matters and Goodwipes are the largest flushable butt wipes in the world for adults, 40% larger than the average flushable wipe; thick + sturdy, strong + soft for women & men, kids, and dudes. Wipe more with less and still be safe to flush. Goodwipes cover your entire hand, fold and wipe 2-4 times with just one wipe. We wipe big butts and we cannot lie.

IT'S WHAT'S INSIDE THAT COUNTS: Organic Aloe, Vitamin E, Lavender and Chamomile lead a unique blend of ingredients that soothe skin and enhance your behind; Goodwipes are safe for sensitive skin. alcohol-free, free of harmful chemicals like toxins or parabens, and hypoallergenic. Feel the Goodwipes difference with plant-based extracts and purified water that nourish your butt.

CAN'T GET ENOUGH OF YOUR LOVE BABY: We love you and the earth too; our plant-sourced fibers are responsibly-sourced, 100% flushable, unlike baby wipes, plastic-free, and safe for sewers and septic systems per INDA G4 Guidelines.
This post contains affiliate links.