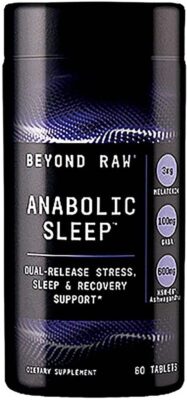 Click here to save on GNC Vitamins and Supplements, today only! You'll find deals on protein powder, fish oil, and so many other supplements to stay healthy! Sleep can be as important to performance as the exercises you choose, which is why Beyond Raw Anabolic Sleep Dietary Supplement is an important part of an intense program. This supplement features clinically studied ingredients at efficacious doses, making it a unique formula that helps support relaxation. Get this Beyond Raw Anabolic Sleep | Duel-Release Stress, Sleep, & Recovery Support | 60 Tablets for only $31.99. 
Features clinically dosed ingredients that are shown to support relaxation to help cope with everyday stress

Includes ingredients that support comfort and your body's anti-inflammatory response

Contains KSM-66 Ashwagandha

Has Suntheanine, which promotes a sense of relaxation to cope with the stress of overwork and fatigue

Features exclusive Levagen Palmitic Acid Monoethanolamide supports comfort and your body's anti-inflammatory response
This post contains affiliate links.