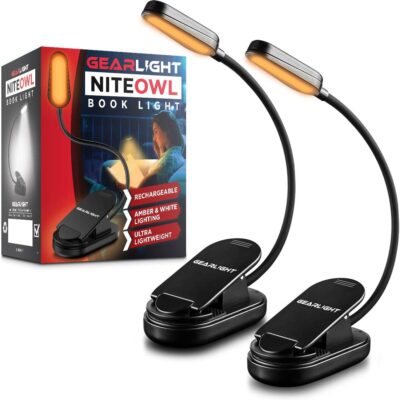 Click here to save on GearLight LED Flashlights. The only light you'll need for reading, crafts, and much more! Get the GearLight NiteOwl Book Light for Reading in Bed – 2 Small, Rechargeable LED Clip on Lights with 3 Lamp Modes and 360-Degree Adjustable Neck to Read at Night for only $12.99!
BRIGHT – The NiteOwl reading light provides 3 settings for optimal illumination at night. Use the white or daylight mode to aid your focus when working, and amber mode to reduce eye strain from blue light.

COMPACT – This portable clip on light is the perfect size for reading, studying, and even crafting. No matter where you go, it can easily be attached to any desk, headboard, book, laptop, or kindle.

ADJUSTABLE – Create comfortable lighting conditions during all hours of the evening. Each reading light for bed time features a flexible 7″ neck, so you can position it exactly where you need it.

VALUE – Every book reading light set includes (2) individually packaged NiteOwl book lights, (2) long-lasting 1200 mAh rechargeable batteries, (2) USB charging cables, and (2) user manuals.

CONVENIENT – At 11 x 1.5 x 5 inches, this lightweight book lamp is designed to cast just the right amount of light on a page or screen, while still being narrow enough to not disturb others nearby.
This post contains affiliate links.