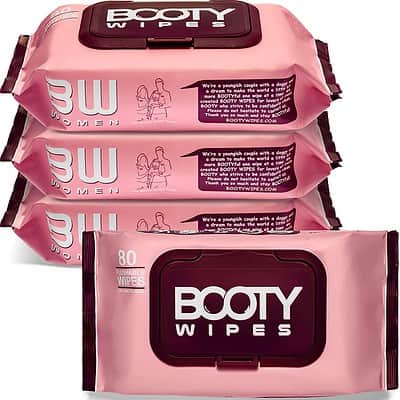 Save on Flushable wipes for adults from Booty Wipes! Booty Wipes was founded by a young couple not afraid to address a hole in the market for personal cleansing. Because everyone should feel confident and comfortable after using the bathroom. Get this Booty Wipes for Women – 320 Flushable Wipes for Adults | Premium Feminine Wet Wipes – pH Balanced & Infused with Vitamin-E & Aloe | Female Toilet Wipes | Flushable Safe for only $23.99. 
Sensitivity Matters to Your Sensitive Parts: Infused with Aloe Vera & Vitamin E to protect you from itching and irritation. Our wipes are gentle on your skin, made with plant sourced fibers, no harmful parabens, alcohol free, fragrant free, pH balanced, and can be used on all body parts.

High Quality, Durable and 100% Flushable: Booty Wipes are large (5.9×7.5in), extremely durable, and 100% flushable with plant-sourced fibers to safely break down in sewers. The wipes come out easily, one at a time, and stay moist. Female toilet wipes flushable safe.

Multifunctional, Perfect For: Home Bathroom Use, Feminine Hygiene, Facial Cleansing, Sensitive Skin, Public Restrooms, Outdoor Activity, and Hands & Body Wipes. Can be used by Adults & Children.

Raise Your Level of Bathroom Hygiene: With our flushable wipes you can get that after-shower comfort every time you have to use the bathroom.

Makes a Great Gift for Her: An amazing gift and stocking stuffers for that special someone. Whether intended for a funny gift, gag gift, or an essential gift for her, always know that this bootyful gift will keep her fresh and clean in all situations. Be you, be Bootyful
This post contains affiliate links.