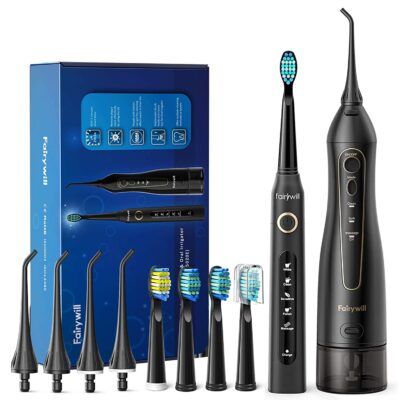 Today only, Save on Fairywill Oral Care Products and upgrade your dental hygiene game! With the power of 40,000 micro-brushes per minute you will get A Cleaning That Is So Thorough You Will Feel As If You Just Got Out Of The Dentist's Chair. The W Tooth-Waved Bristles are made with Dupont nylon, to suit teeth topography for thorough cleaning of gums and hard to reach areas. This Water Flosser and Toothbrush Combo, Fairywill Teeth Cleaner Set, 4 Hours Charge for 30 Days Use, 5 Optional Modes and 4 Brush Heads Whitening Toothbrushes, 3 Modes and 4 Jet Tips Oral Irrigator for only $37.99!
【Fairywill Oral Health Gift Set】Included electric toothbrush and cordless water flosser, also with 4 brush heads and 4 jet tips, Fairywill Teeth Cleaner Gift Set help you get a thorough cleaning the teeth and helpful for curing periodontal disease. (The electric teethbrusher and oral irriagator have independent exquisite package).

【5 Brushing Mode & Powerful Sonic Cleaning】5 High-performance modes to suit different conditions of teeth and gums. 55 gram extra-light weight designed, less than half of regular electric toothbrush. With 40,000 micro-brushes per minute, the electric teethbrusher give you the clean and healthy teeth.

【Powerful Battery Life with USB Cable Charged for Travel】Both the water pick flosser and teethbrush are contain with powerful and environmental lithium battery, fully charged need 4 hours and used continuously for about 30 days. Come with USB Cable, (Adapter Not Included), applicable to a variety of charging equipements such as power bank, computer, laptop…

【3 Model Water Pick for Cleaning and Whiten Teeth】With upgraded pulsation technique, Fariywill teeth cleaner with normal, soft, pulse three deep clean modes with low-noise design, can remove food residue and stains on teeth, helpful for curing bad breath and aslo benefitful for brace and bridge care.

【300ML Detachable Water Tank & IPX7 Waterproof】300ML large water tank provides enough and uninterrupted oral dental flossing. Avoid Adding water continually. With double-sealing rings, Fairywill oral irrigator prevent water leakage reliably, can use for shower in the bathroom and it's washable to clean.
This post contains affiliate links.