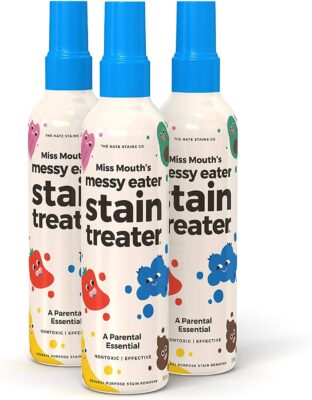 I have heard this works so well! Get the Hate Stains Co. Stain Remover for Clothes – Non-Toxic Laundry Stain Remover Spray for Baby & Kids – Messy Eater Spot Cleaner for Clothing, Fabric, Carpet (120ml, 4 oz Spray Bottles, 3 Pack) for $17.20. Looking for a different option? Click here for the whole selection. 
POWERFUL & FAST WORKING – This lightning fast, commercial grade formula is the perfect spot remover for clothes, bibs, carpets, auto, furniture, upholstery and more. Even your Grandma will be impressed!

DESIGNED FOR KIDS – Our natural stain remover is safe to use around kids and pets. Miss Mouth's Messy Eater Spray has received 5-star reviews from The Today Show, Good Morning America, & Real Simple.

NONTOXIC & EFFECTIVE – Use this gentle stain remover for baby clothes, toys, or carpet. Its 100% biodegradable formula is free from harmful chemicals or dyes and is "Safer Choice" certified.

WORKS ON ALL STAINS – This universal kids, toddler, and baby stain remover is effective on both fresh and set-in stains made from fruit, juice, baby food, formula, ketchup, and even blood.

EASY TO USE – Simply spray, blot, rinse, and watch even the toughest fresh or dry stains disappear. Use as a mattress stain remover or bring the stain remover wipes (sold separately) with you on the go.
This post contains affiliate links.