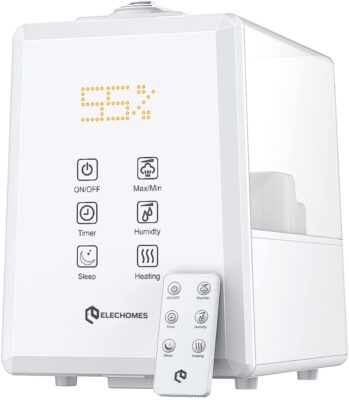 Click here to save on Elechomes Humidifiers, Air Purifiers, and more. Adjustable mist level and mist strength. There are three mist levels and three mist strengths for customizing, choose the best way to enjoy your perfect humidification. Add a few drops of essential oil into the aromatherapy box to relax and immerse yourself in your favorite scents. Two aroma pads are included. Get this Elechomes Humidifiers for Bedroom (6L), Ultra-Quiet Warm and Cool Mist Humidifiers for Home, Baby and Plants, Humidity Sensor, Sleep Mode, Timer, UC5501, White for only $69.99!
6 Liter Capacity: Featuring a stunning 6L large tank and 360° adjustable dual nozzles, this amazing humidifier is perfect for large rooms and spaces – humidifying up to 750 sq ft. All your worries to do with frequent refilling are gone – each refill lasts up to 60 hours of continuous work.

Suitable for Bedroom, Baby, and Plants: You can finally breathe properly with this ultrasonic humidifier, giving you moister, tender skin. The cool and warm mist function balances air quality in your baby's room – your baby will get the perfect and sound sleep. Placing the device in the garden your plants will also thrive.

Enhanced Sleep Mode: Does it really annoy you when background noise exists with a strong LED light, keeping you awake – especially when you'll need to go to sleep and take a long comfortable nap. You'll be happy to know that interrupted sleep will no longer be an issue! Set the humidifier to sleep mode and it'll run quietly and the LED screen will turn off.

Ultrasonic Cool & Warm Mist: The cool mist further moistens the air for better breathability and sleep while the warm mist provides extra heat and comfort in the winter. Stay cozy, relaxed, and comfortable whilst breathing properly all year round.

Intelligent Humidity Sensor: The built-in humidity sensor is smart and efficient, and will quickly and conveniently adapt to your room environment. The versatile UC5501 humidifier automatically adjusts to your humidifying requirements – breathe and live healthily just the way you like it.
This post contains affiliate links.