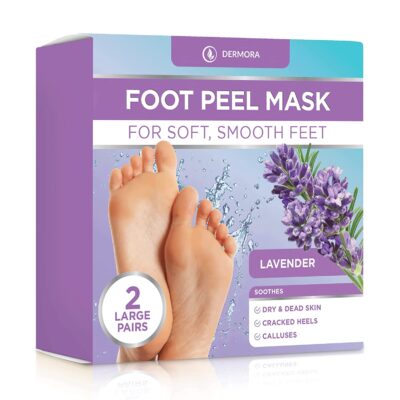 Save on Dermora Foot Peels today! 
The Dermora Foot Peel Mask is effective at eliminating dry, dead skin, calluses, and cracked heels by softly exfoliating and hydrating feet. Our Foot Peel Mask can fit up to a men's size 11, and helps reveal polished, smooth skin within two weeks. Get this DERMORA Foot Peel Mask – 2 Pack of Large Skin Exfoliating Foot Masks for Dry, Cracked Feet, Callus, Dead Skin Remover – Feet Peeling Mask for Soft Baby Feet, French Lavender Scent for only $17.50. 
SOFT SMOOTH FEET – Treat your dry, hard, scaly, cracked feet to some tender love and self-care with our foot peeling mask that will leave your skin satisfyingly soft and silky smooth.

EASY EXFOLIATING – Simply slide your feet into the foot mask socks, wait 60 minutes, and watch as your feet start to peel within 6-11 days, leaving you with super soft feet from heel to toe!

BOTANICAL BLEND – Made with a blend of fruit acids and extracts, our feet mask works to slough away dead skin cells on your soles to help repair rough heels.

UNIVERSAL FIT – A foot exfoliator that is ideal for both men and women. Our foot masks fit feet of most shapes and sizes up to a size 11.

CUSTOMER HAPPINESS – Whether you're buying this baby foot peel mask for yourself or as a holiday gift, our customer support team is available 24/7 to assist you with all your needs.
This post contains affiliate links.