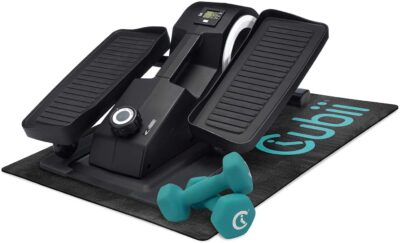 If you work a sedentary job, you might find it hard to build a habit of exercise and movement. This product is a great way of staying active to get healthy, relieve stress, and keep your body mobile. Click here to explore the Cubii JR1 Seated Under Desk Elliptical Machine for Home Workout, Mini Elliptical, Desk Bike Pedal Exerciser, Whisper Quiet, Under Desk Pedal Exerciser w/Adjustable Resistance & LCD Display; it's only $229.99 today.Be sure to check out the reviews, which are pretty convincing!
COMPACT ELLIPTICAL- Leading compact and ergonomic mini elliptical that lets you workout or rehab while you sit at home or the office.

REHAB AND FITNESS EXERCISE PEDDLER – The smooth gliding motion can be switched between 8 resistance levels to increase desk exercise as you gain strength.

WHISPER QUIET MINI EXERCISE BIKE – Enjoy your favorite show, read your current book, and stay productive at work all while you Cubii without the worry of distraction!

BUILT-IN LCD DISPLAY – The digital monitor allows you to keep up with your progress by tracking calories burned, strides pedaled, distance traveled, and more!

PORTABLE ELLIPTICAL – The Cubii under desk elliptical allows you to move a little more and burn calories while you pedal at home in the living room or in office at your desk.
This post contains affiliate links.