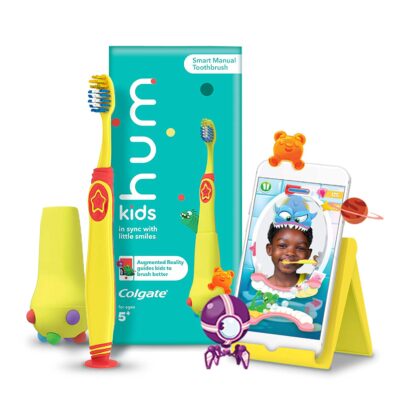 Save on Colgate, Irish Spring & Speed Stick!
The Colgate hum Kids Smart Manual Toothbrush helps kids enjoy better brushing. The hum smart toothbrush connects to an app that allows kids to brush with fun games while teaching them where and how to brush. Hum kids rewards good brushing by unlocking new levels and game experiences as your child brushes. The starter toothbrush kit includes an ergonomic handle, kid-friendly, small brush head for easy access to a child's mouth, and extra soft bristles for a gentle clean. Finally, brushing that's actually fun for your kids! Get the Hum by Colgate Smart Manual Kids Toothbrush Set for Ages 5+, Gaming Experience for Teeth Brushing, Extra Soft, Yellow for only $12.59. 
Smart kids toothbrush that uses Augmented Reality to guide kids to brush better

Seriously fun gaming experience that inspires kids to brush to unlock new worlds and earn rewards

Colorful Augmented Reality dots track brushing progress in a live game on your phone or tablet where monsters are conjured in spots that need attention

App teaches kids where and how to brush, helping your child establish good lifelong brushing habits Track your child's progress and easily check whether your child missed a spot or an entire brushing session via the parents section

This manual toothbrush features a thumb grip designed by easy handling and a kid-friendly brush size with with extra soft bristles for gentle and effective cleaning

Starter Kit includes: 1 manual toothbrush, 1 Augmented Reality Connector boot, and 1 phone stand

Replace the gentle and effective kids toothbrushes to keep them as fresh as your child's mouth every 3 months as recommended by dentists and hygienists
This post contains affiliate links.