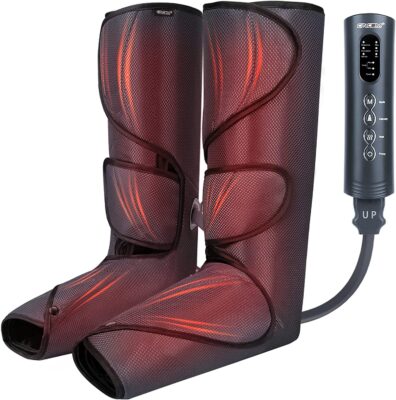 Relaxation is the perfect gift to give! Save on CINCOM Personal Air Compression Massagers today. 
A good foot and leg massage provide deep relaxation and relieves leg pain to well-being. Why not enable you and your beloved ones to easily enjoy a comfortable massage on the daily routine. Get this CINCOM Foot and Leg Massager with Heat, Air Compression Leg Massager for Circulation and Muscles Relaxation – 3 Modes, 3 Intensities, 2 Heating Super Quiet for only $79.99. 
ALL-ROUND MASSAGE FOR FEET & CALVES – 2×2 airbags inside with unique massage settings to simulate Live-action: kneading and stroking calf and feet of tissues. Helping relieves muscle fatigue & pain and improves circulation, offers an all-around relaxing massage for your legs. Which also helps the female beautify the legs' shape and the males strengthen their muscles.

WARM LEGS TO PROMOTE CIRCULATION – 3 modes and 3 intensities can offer various massage experiences to meet your requirements, enjoying personalized massage. 2 levels of heating function to provide suitable warmth for your legs, pretty effective to warm up cold foot & leg, promote circulation flow and reduce leg tiredness, it helps for relaxing your leg.

ADJUSTABLE WRAPS & EASY TO CLEAN – The handheld controller to freely control the unit. Velcro design, easy to change the size and intensity. With 2 extra extenders included, max. calf circumference 28.5 In. The inner sleeve in the massager can be removed and washed to avoid beriberi. And the massager can be completely disassembled to keep it dry and clean.

SAFE TIMER & PORTABLE DESIGN – 20 minutes auto shut-off timer provides a safe user experience. Especially for the elderly, it can avoid overuse caused by forgetting to turn off the massager. The compact and portable design does not take up too much luggage space. Whether you are traveling or on business, you can enjoy a comfortable private massage anytime, anywhere.

BEST GIFT FOR WHOLE FAMILY – CINCOM is committed to creating health care products with high quality. This leg massager for circulation is good to use at home and office or while traveling. Which is a great gift for your family or your friends.
This post contains affiliate links.