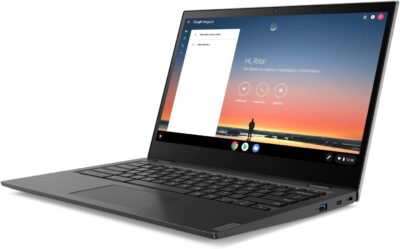 Click here to Save on Chromebooks Top Deal!
The Lenovo 14e Chromebook is a laptop for students that combines the durability and security of a Lenovo laptop with the speed and simplicity of Chrome OS™. This creates a device that is easy for less tech-savvy educators to use, but also powerful and versatile enough for those who like to push the limits of what technology can do. Fast and secure, Chromebook computers require little-to-no maintenance, boot up in seconds, and can run all day. Factor in the automatic updates, built-in flexibility, and an affordable price tag, and you can see why these educational laptops are now the go-to device for many schools, as well as businesses of all sizes. Get this Lenovo – 14e Chromebook – Educational Computer – Laptop for Students – AMD Dual-Core Processor – 14.0″ FHD Display – 4GB Memory – 32GB Storage – Chrome OS for only $139.99. 
Easy to use 14e Chromebook is designed to help students and teachers thrive in a fast-changing environment

This tough, durable but portable student laptop features a water-resistant keyboard and reinforced ports; it weighs just 3.27 lbs, so it's easy to carry

The long-life battery lasts all day on a single charge for an uninterrupted learning experience

A student workhorse that offers robust connectivity, with Wi-Fi and Bluetooth, 2 USB-C and 2 USB-A ports, plus a 3.5mm audio-microphone combo jack

Give teachers and students access to hundreds of educational apps like G Suite for Education and the Chromebook App Hub
This post contains affiliate links.