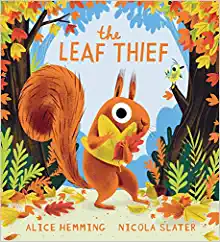 Click here to Save on Children's books and more.
With vibrant art and captivating characters, the magic of autumn is captured beautifully on each page as readers tag along Squirrel's forest adventure. Is there truly a leaf thief afoot, or is something else going on in Squirrel's forest? A perfect exploration of change–both seasonal, and the anxiety that change sometimes causes. Bonus material explaining about the changing of the seasons. Poised to be a new fall classic. Get the Leaf Thief for only $10.39 today. 
Pick up The Leaf Thief if you are looking for:
A classic read for ages 4 and up

Back to school books, ideal for your classroom, homeschool curriculum, and more!

Seasonal and educational stories about the changing seasons
This post contains affiliate links.