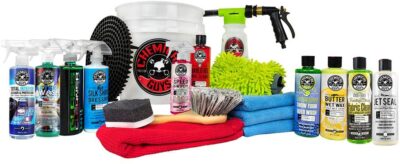 0000000000000 Choose from a variety of professional products to clean your vehicle or grab this Massive 20-Piece Arsenal Builder Wash Kit with TORQ Blaster Foam Gun, Bucket and (14) 16 oz Care Products (Gift for Car & Truck Lovers, Dads and DIYers) for $124.67!
MAKES A GREAT GIFT: This kit is the ultimate collection of car wash supplies, and is the gift that keeps on giving for any car buff, truck enthusiast or classic car fan; It contains everything needed to clean and maintain a beautiful shine on any car or truck

FOAMY FUN: If you love cars, then a clean car brings you nothing but happiness; This kit not only has everything you need to keep the exterior of your car looking great, but it also has the tools to make cleaning your car fast, easy and fun for the entire family; The Foam Gun hooks up to any standard hose, so there are no additional tools or machines required to produce foamy cleaning fun

AMAZING VALUE: If you added up all 20 pieces of this kit, you already know that the value is over 200 dollars; Here are the great products included: Butter Wet Wax, Honeydew Snow Foam, Jet Seal Paint Sealant, Total Interior, AfterWash Drying Agent, Diablo Wheel Gel, Silk Shine Dressing, Glass Cleaner, Speed Wipe Quick Detailer, Detailing Bucket, Cyclone Dirt Trap, TORQ Foam Gun, Microfiber Wash Mitt, Short Handle Brush, 4 Microfiber Towels and an Applicator

SATISFACTION GUARANTEED: Our customers love our products; We love our products, and we want to make sure you love them too. If you have questions or concerns, please reach out to us directly

Note: applicator color may vary. Towel color and size may vary. All towels will be at least 16″ x 16″

THE NUMBER 1 BRAND IN CAR CARE: Beginners and professionals alike choose Chemical Guys, not only for the finest car care products, but the world class customer support and vast detailing knowledge; Chemical Guys is more than a brand it's a lifestyle with a worldwide following
This post contains affiliate links.