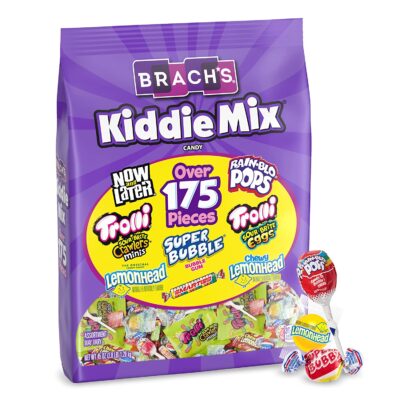 Save on Brach's, Baby Bottle Pop, Ferrero Rocher & More Easter Treats.
At Brach's, we make life sweeter all year long with products for everyday moments and special celebrations during holidays. Whether you're snacking on Milk Chocolate Double Dipped Peanuts, Malt Balls or Lemon Drops during family movie night, celebrating Halloween with Candy Corn or passing Conversation Hearts to your crush on Valentine's Day, Brach's makes every day extraordinary! Get this Brach's Kiddie Mix, Individually Wrapped Assorted Candy – 2.8 Pound Bag (175 Pieces), Easter Egg Filler, Easter Gift Basket Candy for only $15.40. 
PACKED WITH SO MANY SWEET PICKS: Candy variety pack bulk bag includes 175 plus individually wrapped assorted candies from Trolli Sour Brite, Now and Later, Smarties, Lemonhead, Super Bubble, and Rain-Blo.

Product Note: Exposure to heat or sunlight may lead to melting/damage of product. Hence customers are expected to be available during the product delivery

MOUTH-PUCKERING MUST-HAVES: Sweetness and tartness unite in the most deliciously tongue-twisting ways in Trolli Sour Brite Crawlers Minis and Sour Brite Eggs and Lemonhead and Chewy Lemonhead candy.

TART & FRUITY PICK ME-UPS: From the classic, tart flavors rolled into Smarties candies to the long-lasting fruit flavor found in chewy Now and Later squares, these picks easily satisfy sweet cravings.

BUBBLE GUM THAT PACKS IN YUM: Unwrap a Rain-Blo Pop to find gum goodness hidden beneath its lollipop shell, or grab a piece of Super Bubble to enjoy all the bubble-making potential in this candy pack.

SWEET, SHARE-WORTHY SNACKS: The sweets in this bulk sized mixed candy bag are great for celebrating all sorts of milestones. Use them as birthday party favors or to fill up a gift basket or gift box.
This post contains affiliate links.