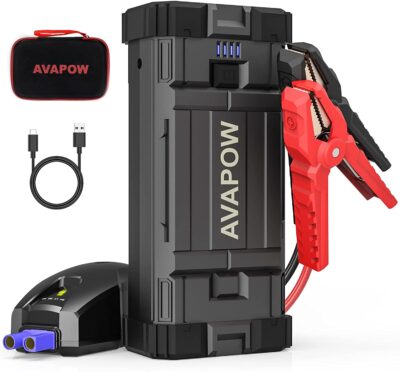 Save on AVAPOW automotive-jump-starters today! You always need a back-up plan in case your battery dies! Safely and quickly jump start your dead battery in seconds with this compact but powerful battery starter. Whether it's freezing winter or scorching summer, AVAPOW battery booster can work for you very safely. Get this AVAPOW Jump Starter 2000A Peak 18000mAh Portable Battery Jump Starter for Car with Dual USB Quick Charge 3.0(Up to 8.0L Gas or 6.5L Diesel),12V Jump Box,Compact Lithium Car Power Pack for only $55.99 today!
PORTABLE & POWERFUL BATTERY STARTER – With 2000A peak current,this AVAPOW A18 car jump starter can start up to 8L gasoline engines or 6.5L diesel engines in seconds- up to 40 jump starts on a single full charge.Suitable for all car, truck, motorcycle, boat, RV or tractor ATVs, UTVs, lawnmowers, snowmobiles, etc,meanwhile this jump pack is ultra lightweight and portable.

INTELLIGENT SAFTY PROTECTION – The portable jump box for vehicles works with intelligent jumper clamp which provides 8 safty protections to ensure it's safe to use,including Reverse Polarity Protection,Short Circuit Protection,High-Temperature Protection,Low-Temperature Protection,High-Voltage Protection,Low-Voltage Protection,Timeout Protection,Over Charger Protection.

DUAL USB QUICK CHARGE – This jump starter battery pack is also a portable car power pack with 18000mAh high capacity.This car battery charger jump starter is equipped 2 usb output ports including one quicking charging(5V/3A 9V/2A 12V/1.5A). It can save your 50% time when you charge your cellphones, tablets, Kindles or digital cameras.

MULTIFUNCTIONAL LED LIGHT – The car battery jump starter is equipped with 3 modes of LED light(Lighting/ Flash/ SOS)and easily convert lighting modes by switching the power button.Ultra bright light can help you start the car more conveniently at night, strobe and sos mode can act as a lifeguard in emergency situations.

PACKAGE CONTENT – 1 X AVAPOW A18 portable car Jumper,1 X smart jumper cables,1 X USB Type-C Charging Cable,1 X High-value EVA Protection Case,1 X User manual in 5 languages,and professional & 24-hour online after-sales team for your any issue.
This post contains affiliate links.