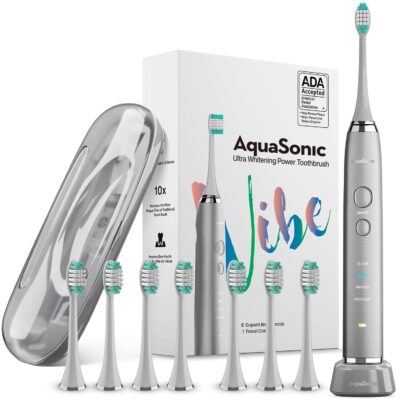 Save on Aquasonic Vibe Series Ultra Whitening Toothbrushes!
Aquasonic is a cutting-edge oral care brand based in the USA that has revolutionized affordable, at-home teeth cleaning. Our advanced electric toothbrushes and accessories give you healthier gums and whiter teeth quickly and easily. Transform your smile rapidly with Aquasonic. Get this Aquasonic Vibe Series Ultra Whitening Toothbrush – ADA Accepted Power Toothbrush – 8 Brush Heads & Travel Case – 40,000 VPM Motor & Wireless Charging – 4 Modes w Smart Timer – Charcoal Metallic for $26.95. 
40,000 VPM Smart Toothbrush – Beauty, brains and power. AquaSonic Vibe series is a world class modern electric toothbrush packed with the most up to date technology in sleek awe-inducing colors. It features an ultra-powerful and industry leading motor producing 40,000 vibration per minute, ultra-fast wireless charging, 4 mode operation, smart vibration timers, 8 DuPont engineered brush heads, and a travel case; all with a sleek ultra-slim, lightweight and IPX7 waterproof design.

Accepted by the American Dental Association (ADA) Council on Scientific Affairs – We put our money where your mouth is. Investing in premium oral care technologies has earned the Vibe Series the prestigious ADA seal of approval. It has shown efficacy in removing plaque and helping to prevent and reduce gingivitis. Vibe Series goes beyond just cleaning teeth – it provides complete oral care with unique modes that include one for whitening and polishing teeth, and one for improving gum health.

Modern Tech for Complete Oral Care – Vibe Series brings toothbrushes into modern times with its built-in enhanced features. Ultra-fast wireless charging (forget cheap USB charging), 4 distinct brushing modes and a smart vibrating notification timer are some of the enhanced features built into the sleek waterproof and ultra-modern charcoal metallic handle

8 DuPont Brush Heads & Travel Case Included – Included are 8 brush heads engineered by world famous DuPont; a world leader in quality & materials science. Each brush head lasts 3-4 months so 8 will last for about 2.5 years. Also included is a convenient custom hard shell travel case made of BPA-free plastic with space for two brush heads. Vibe Series can last 4 full weeks (2 min/2x a day) on a full charge so it's perfect for on the go travel with the included travel case.

What's in the Box – 1 Charcoal Metallic Smart Toothbrush, 8 DuPont brush heads, 1 custom travel case, instruction manual, warranty card, and user manual.
This post contains affiliate links.