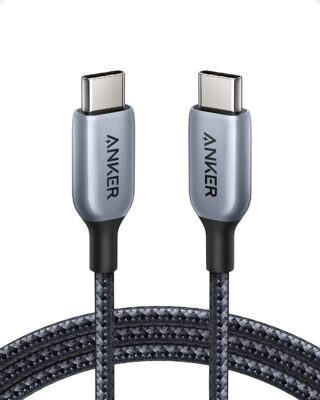 Save on Anker charging accessories!
We want you to live without the inconvenience and uncertainty of where your next charge is coming from. Our chargers and accessories don't just power up your devices, they offer the tech experience you want with zero restrictions. Click here for the Anker 765 USB C to USB C Cable (140W 6ft Nylon), USB 2.0 Fast Charging USB C Cable for MacBook Pro 2021, iPad Pro, iPad Air 4th, Samsung Galaxy S21, Pixel, and More for only $18.99. 
The Anker Advantage: Join the 80 million+ powered by our leading technology.

High-Speed Ready: A maximum output of 140W and compatibility with Power Delivery 3.1 allows for high-speed charging to a wide range of devices including phones, tablets, and laptops.Note: 140W charging requires that both your charger and your device support at least 140W charging.

Wide Compatibility: Designed to work with virtually any USB-C device, from laptops to earbuds.

Built to Last: This cable is more than ready to handle the stresses and strains of daily use thanks to a 35,000-bend lifespan.

What You Get: Anker 765 USB-C to USB-C Cable (140W 6ft Nylon), welcome guide, our worry-free 24-month warranty, and friendly customer service.
This post contains affiliate links.