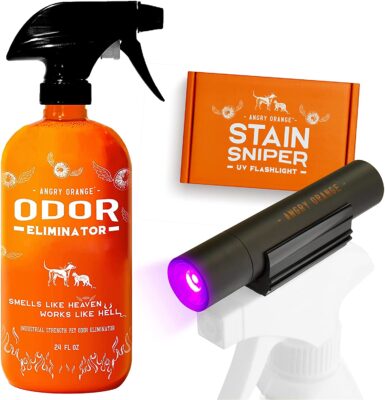 Got pets? Then you need today's deal: Save on Angry Orange Citrus Pet Odor Eliminator.
The UV Stain Sniper and Odor Eliminator spray are easy to use! Shine the Stain Sniper in a dark room and zero in on those pesky stains. Ultraviolet light illuminates dried dog urine and other sources of odor*. UV light is powerful stuff, so avoid shining it onto pets or humans. The Odor Eliminator was originally created to eliminate the toughest barn, stable, and shelter odors. Imagine what it can do for your home! When targeting stinky odors and stains, allow the solution to dry before reintroducing pets to the area. Avoid using near food, water, toys, or litter boxes, and don't spray on an animal. Use only as directed. Get this ANGRY ORANGE Pet Odor Eliminator for Strong Odor – Citrus Deodorizer for Strong Dog Urine or Cat Pee Smells on Carpet, Furniture & Indoor Outdoor Floors – Puppy Supplies – (24 Fl Oz + UV Flashlight) for only $30.39! Don't miss the extra 20% off coupon as well!
Complete Pet Smell Removal Kit: Zero-in on invisible stains with the UV light and use the pet odor eliminator for home to vanquish stubborn stains and foul smells.

Great Scent: The Angry Orange urine odor eliminator smells of sweet citrus! You'll never have to worry about breathing in store-bought cleaner sprays full of chemicals again.

All Purpose Carpet Deodorizer! Our pet stain and odor remover can be used on most surfaces, from carpets and floors, to garbage cans, pillows, clothing and even outdoor odors.

Convenient – For best results, remove pets from area, clean excess mess, shake well & spray, let dry completely. Do not apply product directly to your pet or use in a diffuser. Cats & Birds may be sensitive to concentrated levels of certain ingredients.

UV Flashlights: Is a nasty smell plaguing your home? Pets are sneaky when they make a mess, and these blacklight flashlights are a simple way to locate smells and destroy them! Do not apply the product directly to your pet or use it in a diffuser. Cats & Birds may be sensitive to concentrated levels of certain ingredients.
Remember, Amazon prices can change at any time.
This post contains affiliate links.