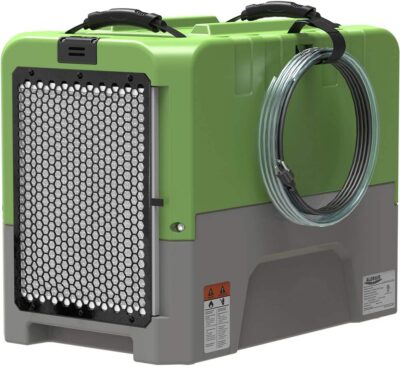 Save on Alorair dehumidifier and air scrubbers today!
Use Storm LGR Extreme commercial-grade dehumidifier with a high removal rate of up to 180 pints per day and an internal pump for nonstop high-efficiency moisture removal in low-clearance spaces like crawl spaces, basements, and attics, and high humidity spaces that require continuous dehumidification. Get this ALORAIR 180 Pint Commercial Dehumidifier with Pump for Basement Warehouse & Job Sites, Large Space Crawl Space Dehumidifier for Efficient Water Damage Restoration,5 Years Warranty,Green for only $639.28. 
✔【Commercial Grade Dehumidifier】This commercial dehumidifier with high airflow of 210 CFM to maximize the drying performance, is capable of removing up to 180 pints of water from the air per day at saturation (90°F, 90%) and 85 PPD @ AHAM, a top choice for the drying and water damage restoration industry in large space up to 2,300 square feet.

✔【Compact Design for Crawl Space】This LGR dehumidifier Standing at just 22.8×13.7×17.3 inches (L×W×H), the space-saving design with 2 carrying handles on the top of the housing makes it easy to position in small confined areas, great for crawl spaces, tight basements, and other hard-to-reach areas.

✔【Dehumidifier with Pump for Easy Drainage】: This commercial dehumidifier with pump will automatically drain the condensate out for the low-hassle operation. Plus, the 19.6 ft long drain hose and 14.7 ft drain vertical height maximize the flexibility of installation.

【Plug-and-Go Operation】All you need to do is plug it in, turn it on, set the humidity. The AUTO ON/OFF and Memory Starting adds convenience. The auto-restart on power failure and Auto defrost features allow less supervision. See the GPP number on the display board at a glance.

✔【5 Years Warranty】: Safety tested our Storm LGR Extreme dehumidifier is fully compliant with the electrical safety ETL. Every AlorAir dehumidifier comes with a 5-year warranty with a professional customer support team ready to assist at any time. Please feel free to contact us; you deserve the best after-sales service.
This post contains affiliate links.