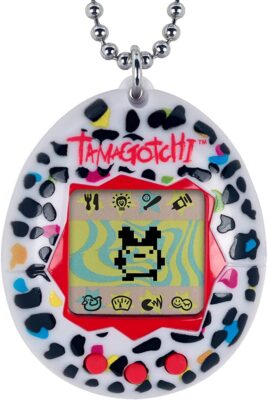 Save on Action Figures and Collectibles from Tamagotchi and more! Celebrate the 20th anniversary of Tamagotchi with the original digital pet you love!  feed it, clean up after it, and just take care of it!  it's that simple! just like the original, these digital pets will bring back old childhood memories and is a perfect introduction to newer users of today! includes the CR2032 battery and attaches to your bag so it goes everywhere! Get this Tamagotchi Electronic Game, Leopard Print for only $14.96 today!
The Original Tamagotchi digital pet you loved back in 1997 is back with the original programming!

Feed it, turn lights on/off, play with it, give it medicine, flush after it's used the bathroom, check it's health and discipline your Tamagotchi if he bothers you when he's happy, fed and all cleaned up

Includes character game where you have to guess which way the Tamagotchi will move next!

Raise your Tamagotchi from egg to child to adult and how you take care of it will decide which of the 7 adults you'll get

Comes with 1 Tamagotchi on a chain to take with you everywhere! batteries are required and comes with your Tamagotchi (CR2032)
This post contains affiliate links.