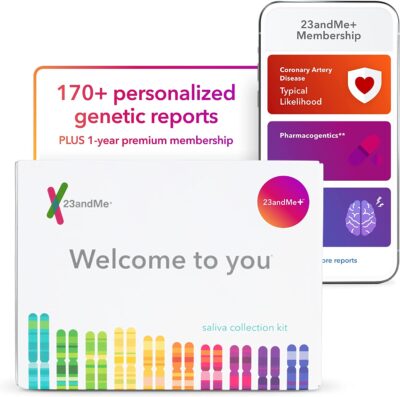 If you've always been curious about your genetic history, this deal is for you! Get the 23andMe+ Premium Membership Bundle: Personal Genetic DNA Test Including full Health + Ancestry Service plus 1-year membership access to exclusive reports for only $149 today. 
IMPORTANT: There is a lot to consider with genetic testing. We encourage you to review relevant information about Pharmacogenetics­*­*, Carrier Status* and Genetic Health Risk* reports. Before purchasing, review important information at 23andme /test-info/pharmacogenetics and 23andme /test-info

PREMIUM REPORTS AND FEATURES: Keep fueling your health journey with 10+ exclusive reports & features delivered to you throughout the calendar year. This one-year membership includes exclusive access to DNA insights that help you learn about your health. You can retain access to these premium reports with an annual membership fee.

PLUS FULL HEALTH + ANCESTRY SERVICE: Learn how genetics can influence your chances of developing certain health conditions. Find out if you're a carrier for certain inherited conditions. Discover what your DNA has to say about your well-being and how it can influence certain lifestyle choices.*

INCLUDES ANCESTRY + TRAITS: Discover your ancestry composition and where in the world your DNA is from across 2000+ regions. Automatically start your Family Tree using your DNA. See what your DNA might have to say about your taste and smell preferences. Discover how DNA can affect your ability to match a musical pitch or whether you hate the sound of chewing.

PRIVATE AND PROTECTED: Everyone deserves a secure, private place to explore and understand their genetics. Your data is encrypted, protected, and under your control. You decide what you want to learn and what you want to share. Subject to 23andMe's Terms of Service at 23andme /tos, Membership Terms 23andme /about/tos/subscription, and Privacy Statement at 23andme /about/privacy
This post contains affiliate links.