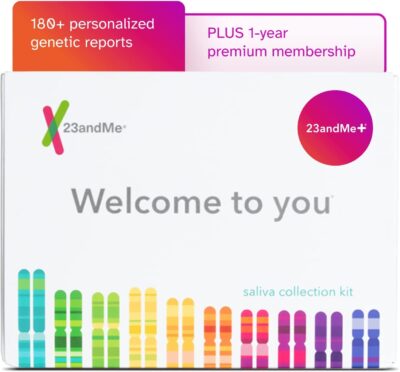 Using insights backed by the latest science, see how your DNA can affect your chances of developing certain health conditions. Your personalized reports break down your genetic data, the science, and potential next steps. Click here to Save on 23andMe Personal Genetic DNA Tests (Your Choice).
IMPORTANT: There is a lot to consider with genetic testing. Please review important information about Pharmacogenetics*, Carrier Status* and Genetic Health Risk* reports. Before purchasing, review important information at 23andme. com/test-info/pharmacogenetics and 23andme. com/test-info.

PREMIUM REPORTS & FEATURES: Fuel your health journey with ongoing exclusive reports & features delivered throughout the year. One-year membership with access to DNA insights that help you learn more about your health. At-home DNA testing kit. Access to personalized genetic reports Powered by 23andMe Research on heart health and more. Learn how your DNA may impact the way your body processes certain medications.** You can retain access to these premium reports with an annual membership fee.

PLUS FULL HEALTH + ANCESTRY SERVICE: Learn how genetics can influence your chances of developing certain health conditions.* Find out if you're a carrier for certain inherited conditions.* Get meaningful DNA insights about your well-being and how it can influence certain lifestyle choices.

INCLUDES ANCESTRY + TRAITS: Discover your ancestry composition & where in the world your DNA is from across 2000+ geographic regions. Research your ancestry faster & more efficiently. Opt-in to DNA Relative Finder to find & connect with people who share your DNA. The automatic Family Tree feature makes it easy to see your DNA relationships. Find out what makes you unique with personalized trait reports including taste and smell, ability to match musical pitch or hatred of the sound of chewing.

PRIVATE AND PROTECTED: Know that you are in control of your DNA. Discovery should never come at the expense of privacy. Your data is encrypted, protected, and under your control. You decide what you want to learn and what you want to share. Subject to 23andMe's Terms of Service at 23andme. com/tos and Privacy Statement at 23andme. com/about/privacy.
This post contains affiliate links.