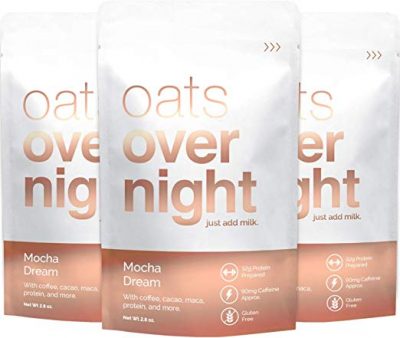 Click here to save on Oats Overnight and start making mornings easier for your family!
Here's how the Oats Overnight company got its start:
Mornings were always tough for me, so shopping for ingredients and cooking breakfast was never easy. Drive thru meals were convenient, but unhealthy. So I decided to create a high protein, low sugar breakfast that prepared itself overnight. I now spend exactly zero minutes on breakfast. We've created a custom protein for each flavor – our Peach Cake and caffeinated Mocha Latte proteins are delicious! Each large serving contains ingredients like maca root for energy, flax and chia seed, real fruit, vanilla bean, and raw cacao. Reaching your dietary goals has never been easier. Want to try Mocha Dream? It's only $32.06 today!
ENERGY BOOST – Contains as much caffeine as a cup of coffee to help you power through your mornings with extra energy!

32G OF HEALTHY PROTEIN – Making it the perfect complete breakfast meal replacement or a recovery smoothie or shake after your workout.

GLUTEN FREE, LOW SUGAR, PACKED WITH SUPERFOODS, PLUS UNIQUE EXTRAS – Made with certified gluten free 100% whole grain oats, chia seeds, flax, maca powder, cacao nibs, and custom whey protein. Ingredients like maca powder and real coffee make Oats Overnight the best tasting oatmeal on the market.

THE LARGEST SERVING SIZE – Includes twelve 79g pouches, perfect for taking breakfast on-the-go during those busy mornings. Guaranteed to keep you full until lunchtime, no more junk food cravings!

ZERO MORNING PREP – Mix one packet of Oats Overnight with your choice of milk or milk substitute the night before and place in the fridge so you can grab and go in the morning. Ditch the spoon and enjoy this premium oatmeal directly from the BlenderBottle, perfect for your morning commute.
This post contains affiliate links.