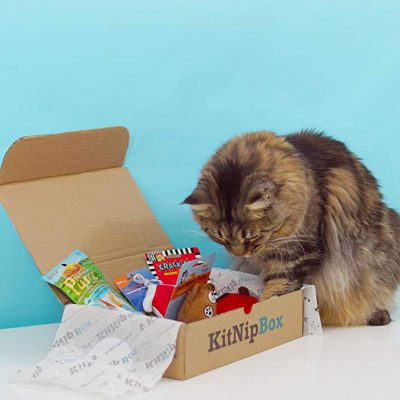 KitNipBox is the #1 subscription box for cats! We send a curated box of new cat toys, treats, and other goodies to your doorstep each month. Tens of thousands of subscribers agree that KitNipBox is the best way to spoil their meowers, and the Subscription Trade Association has honored us with their award for Best Pet Box for the past two years in a row! A portion of our proceeds is donated to animal welfare associations, so you're not only treating your fur family, but also helping kitties in need with every box! Your first box is only $9.99 and it renews at $19.99 per month with today's subscription!
The Happy Cat KitNipBox comes with 5 toys, treats, and/or other cat goodies. Each box is uniquely themed and includes custom items designed exclusively for KitNipBox customers. The Happy Cat KitNipBox is the perfect size for households with one cat.

5 high-quality cat toys, treats, and/or other cat goodies in each KitNipBox

Exclusive items available only to KitNipBox subscribers

Fun, new themes each month to keep you and your kitty engaged

KitNipBox supports animal welfare organizations nationwide. Each month, we donate a portion of our proceeds and/or products to shelters, rescues, TNR efforts, and a variety of other feline welfare causes.
 This post contains affiliate links.