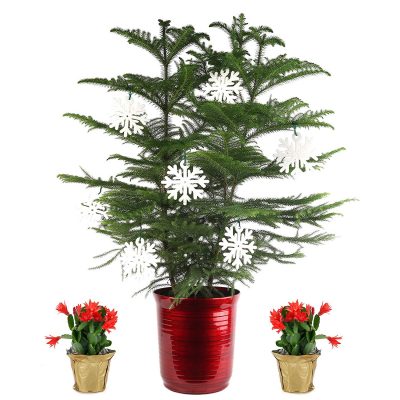 If you don't know what to get them for Christmas, plants are always a good idea! Today on Amazon, save on indoor plants and plantcare. Choose from lots of beautiful house plants, Miracle Gro to help boost their growth and even a Charlie Brown Christmas Tree! Get the Costa Farms Live Christmas Tree, 3-Feet Tall and Christmas Cactus, 10-Inches Tall, Fresh From Our Farm, 3-Pack for only $39.90 today!
Package includes one 3-FT live Christmas Tree, shipped with red planter and white snowflake ornaments and two small live Christmas Cactus, cactus ships in bud form, ready to bloom. Perfect for gift-giving and holiday decorating.

Water Norfolk Island Pine when top soil is dry, place in a room receiving medium sunlight. Grow Christmas Cactus in bright light for the most blooms. Will grow in medium or low light, too. Minimum temperature is 45 degrees Fahrenheit, not frost tolerant.

Norfolk Island Pine can be place indoors or outdoors (when there is no danger of frost). Zygo – Christmas Cactus bloom color is selected at time of shipping, colors range from vibrant reds, pinks and whites.

Christmas Cactus ship at approximately 7-inches tall, Norfolk Island Pine ship at approximately 34-inches tall, measured from the bottom of the pot to the top of the plant.

Enjoy both the Norfolk Island Pine and Christmas Cactus all year long.
This post contains affiliate links.