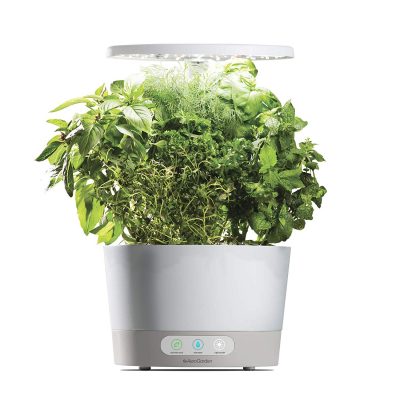 Today, save on Indoor Gardens by Aerogrow. The AeroGarden Harvest 360 is a simple, beautifully designed garden, versatile enough to fit almost anywhere, but perfect for the best room in the house… your kitchen. It's no secret homegrown veggies just taste better, and the Harvest 360 will inspire you to discover the flavor of fresh no matter the season. Perfect for beginners and experienced growers alike, the Harvest 360 has room for six different plants. Grow an endless variety of herbs, vegetables, salad greens, or flowers to enhance your food, drinks, home and life. Today only, get the AeroGarden Harvest 360 in White for only $74.99.
Grow fresh herbs & veggies all year round in this in-home garden system. Always fresh, always local, always in season.

Stainless steel finish. Up to 6 plants grow at a time, up to 12″ tall. Grows in water – no soil, no mess. Enjoy from plant to plate.

Easy-to-use simple control panel tells you when to add water, reminds you when to add plant food (included), automatically turns lights on and off.

Ultra-thin grow light hood with energy efficient 20 watt LED lights has 15-hour setting – just the right amount plants love for healthy growth.

Includes 6 endlessly fresh gourmet herbs: Genovese Basil, Curly Parsley, Dill, Thyme, Thai Basil and Mint & Miracle-Gro Plant Food (enough for a full season of growth).
This post contains affiliate links.