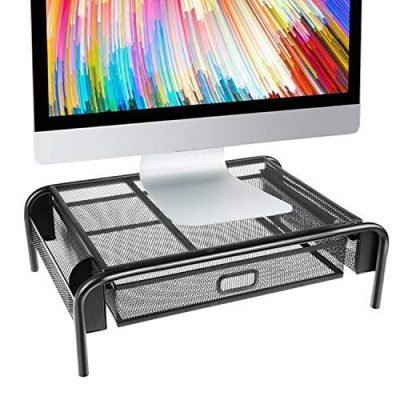 Make your office space more efficient and productive with today's savings on Huanuo Office Products. HUANUO mesh metal monitor stand can add the height by 5.4″, elevating your monitor to an ergonomic viewing height. You don't need to bend your neck to watch the screen now, effectively relieving the burden of your neck, shoulder and back and making you productive. Click here to snag the Monitor Stand Riser for only $19.99. That's a savings of $10! 
ERGONOMIC COMPUTER MONITOR STAND RISER: Raise your monitor by 5.4 inch, elevates your monitor screen to eye level, relieving the strain of the neck, shoulder and back and enhancing work efficiency

LARGE STORAGE SPACE & CLATTER-FREE DESK: This monitor stand comes with a pull-out drawer and two side compartments; You can put notebook, papers and calculators into the drawer while putting pens, phones, other office supplies into the pockets, making your desk clean and tidy

SOLID & MULTI-FUNCTIONAL STAND HOLDER: Well-built with solid construction, this stand can easily monitors, laptops, printers up to 44 lbs; the non-skid feet increase its stability

EASY TO USE: No need to assemble; The drawer is very easy and smooth to pull out; if you don't want the drawer, you can just remove it, adding more room for large items such as large gaming keyboard, Xbox console, cable box etc.

BETTER AIRFLOW: The top plate and drawer are made of mesh steel, better for airflow and keeping electronics cool
This post contains affiliate links.