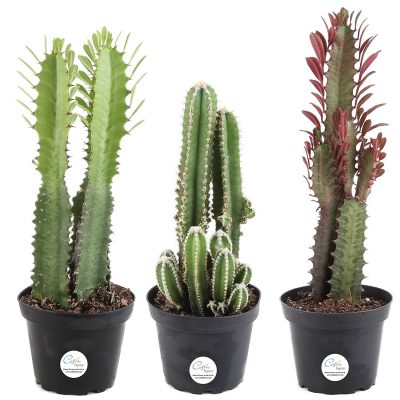 Today only, Save Big on House Plants from Costa Farms. Choose from palms, air plants, succulents and more! If you like treelike forms of cacti & succulents center, you'll love members of the talented Euphorbia family. Often called cacti, these columnar plants are also called stem succulents center most of the tall thin Euphorbia hail from Desert areas. Use them as the focal piece in mixed containers. Click here to get the Costa Farms Euphorbia Cactus Trio for $20.09. 
Minimal care! Exotic trio of Euphoria Cactus grows best in a warm, bright sunny spot. These sun-lovers do best when they get lots of direct light. They are also drought tolerant and only need water once every two to three weeks

Cactus plants ship in 4-inch grower pot, place in planter of choice. Ships fresh, direct from our farm to your home, measures approximately 10-inches tall from bottom of pot to top of plant.

Most cactus houseplants are slow growers and grow in different shapes, textures and sizes. Great for DIY projects, party favors or simply drop into décor planter of choice. The Cactus 3-Pack is an excellent choice to jump-start or add to your collection

Studies show that raising plants such as cacti help clear indoor air of pollutants. Having plants in your home improves your mood, sparks your creativity, and reduces stress.

Authentic Costa Farms brand plants are in black nursery-grower pots with premium soil, slow release fertilizer and have the Costa Farms logo on the pots. Look for ships from and sold by Amazon.com to ensure you're getting Costa Farms brand premium plants
This post contains affiliate links.