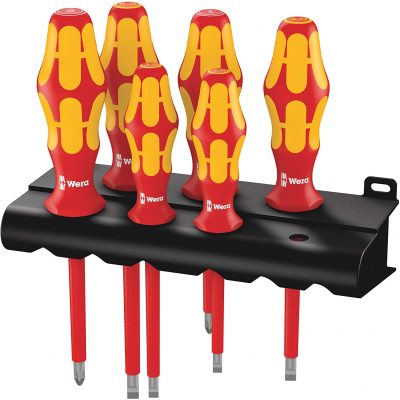 Click here to save up to 55% on Wera Tools. Choose from ratchet sets, wrench sets and screwdrivers for any job! Individual testing in a water bath at 10,000 volts so as to ensure safe working at the permitted voltage of 1,000 volts. Kraftform Plus handle for pleasant, ergonomic working that makes blisters and calluses a thing of the past. Hard gripping zones for high working speeds whereas soft zones ensure high torque transfer. Partially Lasertip: the tip literally bites itself into the screw head and prevents any slipping. 'Take it easy' Tool Finder: colour coding according to profile and size. The anti-roll feature prevents any bothersome rolling away at the workplace. Including a rack for storage. Get the Wera Kraftform Plus 160i/6 Insulated Professional Screwdriver Set, 6-Piece set for $22.76 today!
Features Lasertip Slotted and Phillips drive tips and rack

Each screwdriver is tested at 10,000 volts in a water bath to guarantee safe working standards of 1000 Volts

Lasertip micro-rough drive tip bites into the fastener to ensure a perfect fit and reduce cam-out effect

Multi-component Kraftform handle fits the shape to the hand for the ultimate in comfort and high speed torque transfer

Limited Lifetime Warranty, German Engineered
This post contains affiliate links.