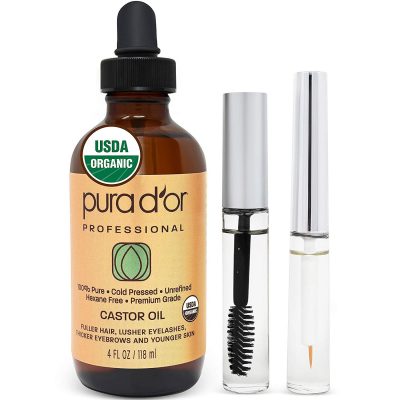 I really want to try this! Get the PURA D'OR Castor Oil (4oz) 100% Pure Natural USDA Organic Carrier Oil for $5.99. Castor Oil has all natural properties with high vitamin E, minerals, proteins, omega-6 and tons of beneficial fatty acids. PURA D'OR's Castor oil uses a state-of-the-art cold press method to keep all the beneficial compounds in the extract. Giving you more of the good stuff. Looking for something a little different? Save up to 53% on PURA D'OR Premium Beauty Products today. 
FOR FULLER AND LUSCIOUS EYE-POPPING EYELASHES. Conceal thin, uneven lashes and brows with this amazing Castor Oil for thicker looking lashes and brows.

ACHIEVE THICKER AND DARKER ARCHES FOR YOUR EYEBROWS. When It Comes To Eyebrows The Bigger The Better. Drop Those Tweezers And Naturally Achieve Fuller Eyebrows With Our 100% Pure Castor Oil For Eyebrows.

FRESHEN UP ANYWHERE AT ANYTIME. Our Cold Pressed Castor Oil Includes 2 Bonus On-The-Go Brush Mascara Wand And Bottles For Easy Application On Brows And Lashes. Both bottles come airtight so no leakage during your traveling commutes.

RICH CASTOR OIL WITH SOOTHING SCENT. Pura Dor's Castor Oil for eyebrows growth is Made With High Quality Organic Ingredient That Is Cold Pressed To Extract The Natural Oil Content From Castor Bean Seeds. This method leaves the oil safe to use while retaining the relaxing earthy scent.

100% 365 DAY MONEY BACK GUARANTEE. We Aim To Offer The Highest Quality And Most Authentic Caster Oil On The Market. We guarantee your satisfaction. If you are not satisfied with your purchase, please return it for a FULL REFUND within 365 days.
This post contains affiliate links.