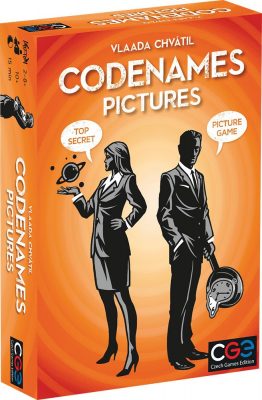 More holiday gifts delivery right to your door from Amazon. Today save up to 50% on strategy games! Choose from dozens of titles including classic games like Othello and new ones like One Night Ultimate Werewolf!
What are these strange symbols on the map? They code for locations where spies must contact secret agents!
Two rival spymasters know the agent in each location. They deliver coded messages telling their field operatives where to go for clandestine meetings. Operatives must be clever. A decoding mistake could lead to an unpleasant encounter with an enemy agent – or worse, with the assassin! Click here to snag Code Names: Pictures for only $8.99.
Mechanics: words Association, deduction, team play

Theme: spies, agents, revealing secret identities

2 to 8 or more players, ages 14 and up
This post contains affiliate links.