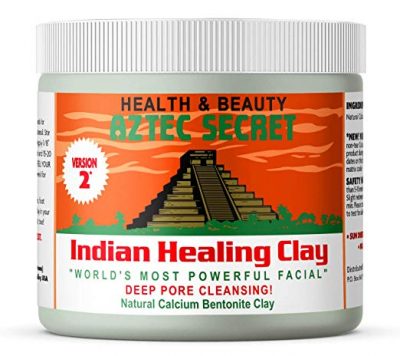 Today only, save up to 50% on Etana Beauty products. The selection includes probiotics, detox support, and vitamins. Mix aztec secert indian healing clay with equal parts of apple cider vinegar or water.its best to use a glass, pottery or wooden bowl. Stir the mixture until is a smooth paste-add more clay or liquid as needed. Apply a 1/8 inch to 1/4 inch thick layer of clay to the face or other areas and let it dry. Drying times vary, but times are generally 5 minutes of delicate skin and 15-20 minutes for normal skin. You will feel a pulling and tightening sensation, deep pore cleansing! Remove clay by washing with warm water. A slight redness may appear after removing the clay. This is normal and will disappear in approximately 30 minutes.Helps to remove dirt and impurities from the pores of the skin. The clay is beneficial for deep pore cleansing of the skin. Click here to score Aztec Secret – Indian Healing Clay – 1 lb. for only $8.76 today! This product has incredible reviews.
100% Calcium Bentonite Clay for external use only. Does not contain: Additives, fragrances or animal products Version 2! Supplied with a non-tear Calcium Bentonite Clay security sticker on the lid.

Version 2! Supplied with a non-tear Calcium Bentonite Clay security sticker on the lid.

Product does not come with an inner seal. Laser printed lot numbers and expiration dates on bottom of jar.

Important Note: Do not leave clay mask on skin longer than 5-10 mins for delicate skin; this will reduce redness/drying. Slight redness of skin is normal and will disappear in about 30 mins.

Important Note 2: For external use only. Please conduct a forearm skin patch test prior to facial use to test for allergic reactions or sensitivity. Works best when mixed with Apple Cider Vinegar.
This post contains affiliate links.