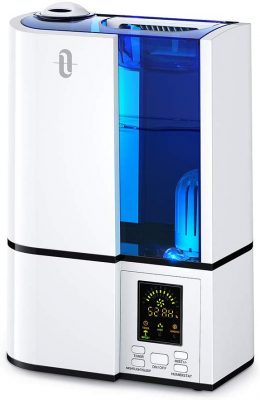 Click here to save up to 40% on TaoTronics Humidifiers! Maintaining humidity levels between 40-60% helps to nurture our bodies & homes. Humidity below 30% may cause nasal congestion, skin & eye dryness, static electricity & cracks in furniture. TaoTronics ultrasonic humidifiers fill your home with an abundance of lush, clean & refreshingly breathable air to relieve those discomforts. From cool mist to warm mist, from morning till evening, with each fill, our humidifiers let you escape into a wonderfully invigorating world of hydration. The TaoTronics Cool Mist Humidifier, 4L Ultrasonic Humidifiers for Large Bedroom Home Baby, Quiet Operation, LED Display with Humidistat, Waterless Auto Shut-off (1.06 Gallon, US 110V) is only $31.99 today. 
Quiet Operation for Bedroom Use: Ultrasonic humidifiers are incredibly silent, produces less than 38 dB of noise; perfect for your baby and a disturbance-free sleep at night

4L Tank Capacity, Works for All Night: Over a gallon of water lasts for 12-30 hour working time on a full tank; designed to humidify the air in rooms up to 10-30 m² / 107-322 ft², bedroom, nursery, office and so on

Informative LED display: Built-in Humidistat tells you the current RH; Easily choose between three mist levels; Set your desired humidity level, 40-60% is recommended

Nightlight & Sleep Mode: Choose to turn on the nightlight, or enter sleep mode to shut off LED screen for a discreet sleep at night

Safe to Use: Automatically shuts off when water runs out; Microporous cartridge filters the water from micro-organisms and bad odor, we recommend you change filters every 4-6 months

Please do NOT use with essential oils, which will damage the machine and cause leakage problem.
This post contains affiliate links.