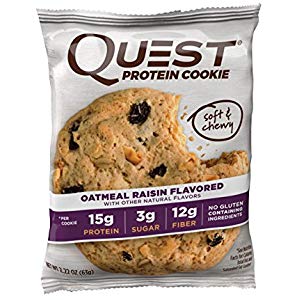 Sometimes you just need to have a cookie. We get it, cravings are a real struggle. That's why we made Quest Protein Cookies: soft baked, sweet indulgences you can enjoy anytime. But you've read enough, reward yourself with a cookie. Today only, save 40% on Quest Protein Cookies! Quest Protein Cookies are naturally sweetened with Stevia and Erythritol? In fact, the only sugar present in Quest Protein Cookies come from ingredients with sugar already in them. So you can indulge your cookie cravings anytime, without guilt. Wouldn't you like to try the Oatmeal Raisin; today they are only $12.53!
Quest Protein Cookies are soft, sweet and deliciously chewy – great as a creaveable snack

15g Protein, 9g Net Carbs, 3g Sugars, 12g Dietary Fiber, 250 Calories, 14g Fat

Sweetened with Erythritol and Stevia

Made with Raisins, Oats, Cinnamon, Peanuts and Natural Flavors

Gluten Free / Soy Free / All Natural
This post contains affiliate links.