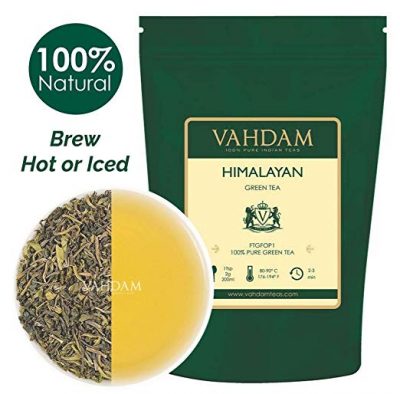 Today only, Save Up to 40% – Matcha, Superfood Wellness Teas & Tea Wares. You'll find something for everyone in this specially chosen selection of Tea! Click here for the VAHDAM, Green Tea Leaves from Himalayas (100+ Cups) 9oz Bag, only $14.99 today.
100% NATURAL & GREEN TEA LEAVES – Exclusive Long Leaf Green Tea rich with Natural Anti-Oxidants & Flavonoids. Hand-plucked & produced in high elevation tea plantations in the Himalayas. Discover the Taste of Purity with this loose tea. Low-Caffeine content tea which can be enjoyed anytime of the day. Unlike green tea organic, this loose leaf tea makes for a great detox cleanse tea. Vadham

100% NATURAL 14 DAY DETOX TEA – Unlike popular 14 Day Detox Tea, 14 Day Cleanse, 14 Day Teabox Tea, 14 Day Teatox – VAHDAM Green Tea is the PUREST NATURAL DETOX tea with NO SIDE EFFECTS & no added ingredients, flavours. Drink 3 Cups of Tea Everyday & Feel the Difference.

A BRAND WITH A BILLION DREAMS – Established in India by a 26-year-old, 4th generation Tea entrepreneur, Vahdam Teas is an award-winning, vertically integrated tea brand that door delivers the world's freshest tea leaves to over 83 countries, sourced directly from India's choicest tea gardens. The tea industry is one of the largest employers of manual labor in India. A successful home-grown brand helps empower millions of these tea workers in the long run.

ETHICAL, DIRECT & FAIR-TRADE- TRULY – Our innovative supply chain model ensures you get the freshest cup of tea and our farmers get a better price for their produce. 1% of our revenue is redirected towards the education of our tea growers' children. Our farmers, like any other parent, wish for their progeny to have a better life than them. We at Vahdam Teas with our social initiative, TEAch Me, simply wish to honor this aspiration.

SATISFACTION GUARANTEED – 100% MONEYBACK GUARANTEE – If you don't like the tea, we will issue a 100% REFUND immediately. No Questions Asked.
 This post contains affiliate links.