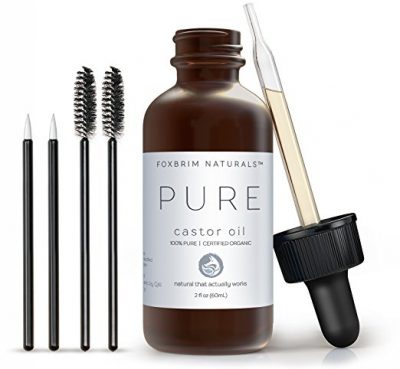 Truly natural beauty products pose zero risk to customers and the planet – period. We deliver results and piece of mind by using only the highest quality natural and organic ingredients, and presenting them to you with nothing to hide. Click here to Save 40% on Foxbrim Products, including Argan Oil, Face Toner, Moisturizer and more. The product I am most interested in is the Organic Castor Oil – 2oz – 100% Pure – Cold Pressed for only $8.97! I'd love to try it as an alternative to mascara, because every product I try seems to irritate my eyes.
ABUNDANT IN ESSENTIAL NUTRIENTS – Omega-6 & Omega-9 fatty acids – Boost production of collagen & elastin and promote hair, lash & brow growth – The included applicator kit allows for easy application to lashes, brows, nails & cuticles

THOUSANDS OF AMAZING REVIEWS – Our Organic Castor Oil is the premium choice above the rest – Our customers testimonials speak for themselves

SATISFACTION GUARANTEED – We guarantee you'll enjoy the best Organic Castor Oil available – If You Are Not Fully Satisfied We Will Refund Your Purchase

THE BEST PURE CASTOR OIL – 100% Pure Castor Oil, USDA Certified Organic, Unrefined, Cold Pressed, Virgin & Hexane Free – Absolutely free of chemical processing and potentially harmful pesticides some castor seeds are exposed to today – Safe for use on body, face, hair & nails
This post contains affiliate links.