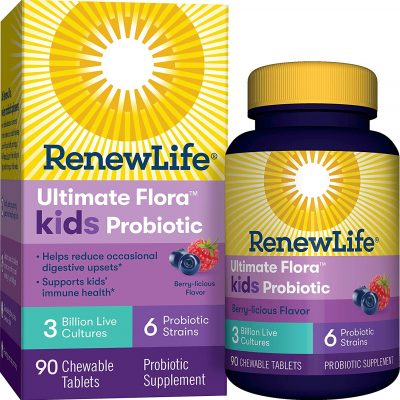 Today only, save up to 40% on 'End of Season' nutrition & wellness selection! Choose from SmartyPants, RenewLife, Gaia, RainbowLight and more! Our probiotics are made at the highest level of quality, purity and potency to help your gut be its best.* Get Renew Life Kids Probiotic – Ultimate Flora Kids Probiotic Supplement for $21.43 today!
PROBIOTIC FOR KIDS AGE 2 AND OLDER: Renew Life Ultimate Flora Kids Probiotic is made with 3 billion cultures and 6 specially selected strains to ease occasional tummy trouble and support digestive balance.* Gluten free, dairy free and soy free

HIGH-QUALITY GUARANTEE: Renew Life is the #1 probiotic brand in consumer satisfaction in 2018, guaranteeing quality, purity and potency through expiration. Made in the USA using only the highest quality global ingredients

IMMUNE AND GUT HEALTH: Did you know your child's gut is home to 70% of their immune system? This probiotic supplement for kids provides digestive AND immune support for growing bodies, so your child is set up for daily success*

MULTI-STRAIN PROBIOTIC: Each kids chewable probiotic tablet contains a blend of 6 different probiotic strains to reflect the natural diversity of your child's gut

SHELF STABLE PROBIOTIC: Refrigeration recommended but not required, so stick this probiotic for kids in the fridge only if you want to!
This post contains affiliate links.