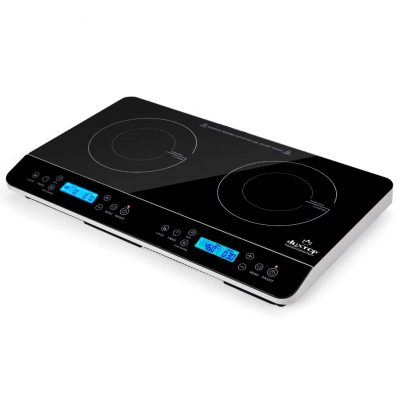 My parents have used an induction cooktop for years and it is amazingly quick and efficient! Today only, save up to 40% on Duxtop Induction Cooktop and Cookware Set. Choose from three different cooktop versions plus a complete set of induction-friendly cookware! This Duxtop 9620LS LCD Portable Double Induction Cooktop is only $117.59.
【DUAL HEATING ZONES】→ This professional digital countertop induction cooktop by Duxtop is equipped with two independent heating zones that allow you to set each one separately using the LCD display screen. The Duxtop induction burner uses 120 Volts, 15 amp of electricity—standard in all North American homes.

【SAFE—EASY TO USE—EASY TO CLEAN】→ Child safety lock system helps protect from injuries such as scalding. Touch control panel is simple to operate, and the rapid heating of the cookware makes cooking fast and easy. With no open flame or heating element, food does not burn-on the glass cooktop so it's easy to clean—just wipe with a damp towel.

【CHOOSE POWER MODE OR TEMPERATURE MODE】→ There are 20 preset levels per mode so you can select the perfect one for your cooking task. Simply press one button to switch between cooking modes. TEMPERATURE MODE is recommended to fry, steam and saute. Try POWER MODE to keep food warm or to bring water to a boil quickly.

【ENERGY EFFICIENT】→ Electric cooktops place the electromagnetic energy directly into the cookware without wasting energy on a heating element. This makes them extremely energy efficient while providing faster heating. The Power Sharing Feature is designed to avoid electrical overload and increase efficiency by allowing the burners to share power between them while in Power Mode.

【WIDE RANGE OF APPLICATIONS】→ This double induction cooker is compatible with cast iron, iron, magnetic steel, enameled iron, stainless steel manufactured with a magnetic bottom. If a magnet sticks to the cookware bottom, it should be compatible. Lightweight and attractive design makes it great for home and outdoor cooking. Low and high voltage warning system; ETL approved and built to North American electrical standards.
This post contains affiliate links.