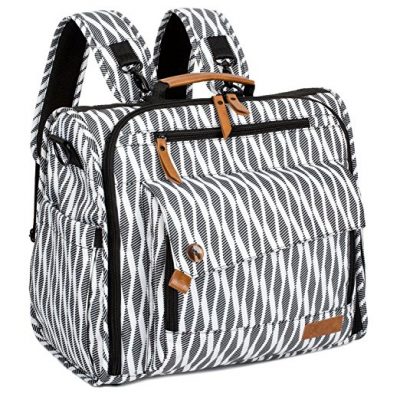 Save 40% on sturdy multi-use ALLCAMP Backpacks and Bags today on Amazon! Choose from picnic baskets, camping bags or this ALLCAMP Zebra Diaper Bag Backpack, only $36.99 today! You'll be saving 30% and you'll get these great features:
95% Nylon fiber and 5% PU

the stunning new Convertible Diaper Bag Backpack. This truly is the 'diaper bag of choices' as it effortlessly converts from a traditional cross body messenger or an over the shoulder tote, to a super cute backpack diaper bag!

High quality – waterproof fabric comes with the changing pad and the stroller straps. Multifunctional and fashionable, diaper tote bag can be easily converted into a backpack.

Most Comfortable -The design of diaper bag is made for your highest comfort, useful and best quality on the market without compromising on 'style' by making it too large or bulky.

Smart Pocket – Organization inside includes 4 gusseted pockets, 3 zippered pockets, 2 exteriors 3 Insulate bottle pockets, mommy pocket, quick reach pocket for cell phone, and lots of wide open space inside the bag.

Machine Washable, Air Dry! Metal Hardware – don't trust any of the cheap plastic stuff.
This post contains affiliate links.