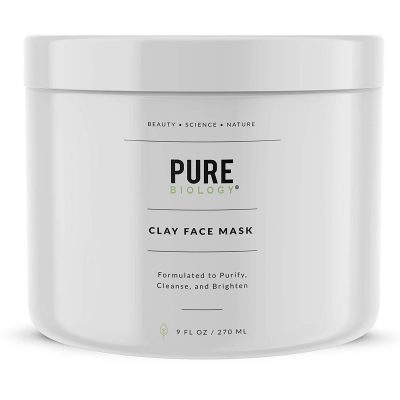 Save up to 39% on Pure Biology Facial Beauty Products today only! Choose from Shampoo, Facial Cream, Dark Spot Corrector and more! Pure Biology's Premium Clay Face Mask hydrates to improve elasticity, and smooth the skin's appearance.* With a vitamin complex of A, B, C & E along with natural Alpha Hydroxy Acids, this clay mask will help to smooth and brighten the skin's complexion while diminishing the appearance of unwanted wrinkles.* This, with the addition of NaturePep Pea, allows skin pigments to return to a balanced state. Get the Premium Face Mask – Bentonite Clay, Retinol, Collagen Peptides, Kaolin, Vitamins B, C, E for only $18.99 today!
ANTIOXIDANT BLEND – Packed with Bentonite Clay, Kaolin Clay, Retinol, Vitamin B, Vitamin C & E, and natural Alpha Hydroxy Acids, this clay mask adds proprietary complexes clinically shown to deliver the most potent detoxifying benefits among non-RX grade cosmetic skin care products.*

DETOXIFY & BRIGHTEN – Perfect for sensitive, acne-prone skin, this bentonite clay mask gently exfoliates and detoxifies your pores, reducing inflammation allowing skin to heal quickly.* They help lighten dark spots, acne scars and stretch marks.*

SOOTHE & PROTECT – Collagen and Vitamin C help reduce UV damage and protect from free radicals.* Vitamin B has anti aging, anti-inflammatory properties to help soothe red, irritated skin and improve hydration and elasticity to even skin complexion.*

SMOOTH & HYDRATE – Retinol helps reduce fine lines and wrinkles while NaturePep Pea extract interferes with overproduction of melanin caused by harmful UV and free radicals.* It's clinically shown to brighten and smooth skin, allowing it to return to a balanced state.*

ALL SKIN TYPES – This exfoliating face mask is great for men and women of all skin types including sensitive, acne-prone, oily and dry.* Blackhead remover acne treatment face cleanser.* Non-GMO, paraben & cruelty free. Made in the USA.
This post contains affiliate links.