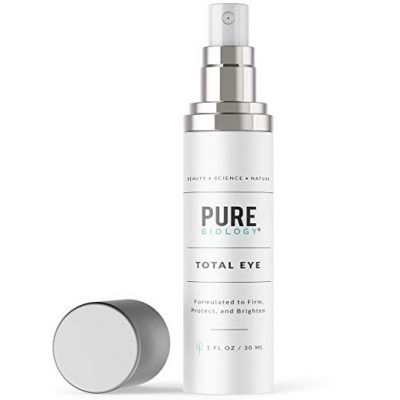 Today only, Save up to 39% on Pure Biology Beauty; choose from three premium products at only $19.99 each. To help make the eyes look more awake and brightened by reducing under eye puffiness and dark circles, Pure Biology added an exciting active ingredient extracted naturally by plants: EyeBright.* This ingredient is naturally astringent, anti-inflammatory and anti-bacterial and can help thin, delicate skin around the eyes look more youthful and refreshed.* Look like your younger self again! Today only, get Premium Total Eye Cream with Vitamin C + E, for only $19.99. 
ANTI AGING BLEND – Packed with proven base ingredients Hyaluronic Acid, Vitamin C & E, Aloe and Argan Oil, this enhanced eye cream adds two of the strongest proprietary complexes clinically shown to deliver the most potent wrinkle reduction benefits among non-RX grade cosmetic skin care products.*

BRIGHTEN & PROTECT – EyeBright, Caffeine and Vitamin C promote antioxidants and increase collagen to defend against UV exposure, reduce under eye bags, puffiness and dark circles, and renew thin, delicate skin around the eyes to look more refreshed and youthful.*

LIFT & TIGHTEN – SymLift helps immediately moisturize and fill wrinkles, minimizing the appearance of fine lines and crow's feet with visible results possible as soon as the first application.*

HYDRATE & RENEW – Shea Butter, Primrose Oil and other natural extracts help lift and restore skin, penetrating deep to improve skin appearance after 30 minutes leaving a smooth, elegant skin feel.*

SMOOTH & NON-GREASY – An anti aging day and night cream ideal for all skin types, this beauty product targets like a serum, feels like a gel and hydrates like a cream.* Non-GMO, fragrance, paraben & cruelty free. Made in the USA.
This post contains affiliate links.