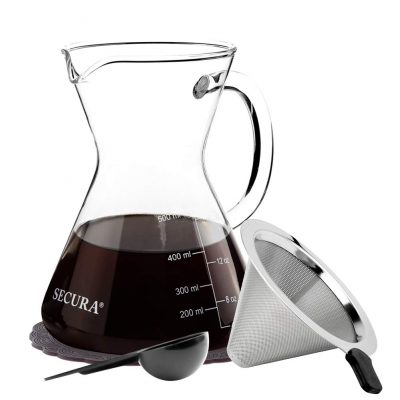 Today only, save up to 38% on Secura Coffeemakers Grinders and Kettles. Choose from various models with prices starting under $10! Coffee lovers everywhere are discovering the amazing taste difference that comes from a slow-brewed pour over cup of coffee. It's the unique cone shape and the micro perforated stainless steel mesh that allows for a full range of flavors to develop completely. Click here to score the Secura Pour Over Coffee Dripper, 17 oz, Glass Coffeemaker with Stainless Steel Filter for only $9.77!
◆Coffee dripper◆ — manual pour over Coffee maker allows you to brew an excellent cup of Coffee in minutes and get more from your Coffee beans;

◆Stainless steel mesh filter◆ — food grade 304 stainless steel filter helps extract your coffee's aromatic oils and subtle flavors, instead of being absorbed by a paper filter;

◆Glass Coffee carafe◆ — made from durable, heat-resistant borosilicate glass with a cool-touch handle that is both functional and stylish;

◆Quick & easy◆ — 1. Simply add coarsely ground Coffee to filter; 2. Pour water over ground Coffee until soaked; 3. Add more water and let drip;

◆Large capacity◆ — holds up to 17 ounces so you can enjoy several servings of Coffee; choose the Secura Pour Over Coffee Dripper With Confidence and enjoy the aroma and taste of perfectly brewed Coffee!
This post contains affiliate links.