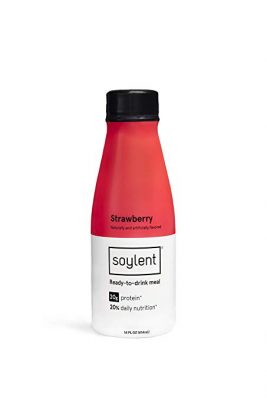 Today only, Save up to 35% on select Soylent products. Choose from four different flavors. If you've ever skipped breakfast after rolling out of bed too late or settled for reheating lunch because of a busy schedule — Soylent is for you! Ready-to-drink Soylent gives you a complete meal – no questions asked – all in less time than it takes to boil water. Just grab a bottle and go! Get the 12 pack Soylent Meal Replacement Shake, Strawberry, 14 oz Bottles for only $25.35 or less if you select Subscribe & Save. 
FOOD REFORMATTED. Soylent is a ready-to-drink, nutritional, complete meal replacement shake in a bottle.

COMPLETE, CONVENIENT NUTRITION. Each 400 calorie nutrition drink contains 20% of your daily vitamins and minerals.

DELICIOUS STRAWBERRY. Soylent Strawberry has a delicious fruity flavor that you'll love time and time again.

20g OF PROTEIN PER BOTTLE. A perfect breakfast replacement, a convenient lunch on hectic days or an after-workout nutritional shake.

PLANT BASED, VEGAN FRIENDLY. Non-dairy, gluten-free ingredients include soy protein isolate, slow-burning carbs from beets, and all essential vitamins and minerals. Soylent contains no animal products.
This post contains affiliate links.